Join the Chat>
What is your favorite new character?
Got any ideas to talk about?
Make a Forum or Blogs, let the wikians can hear.
Join the Sackpedia Wiki Forum!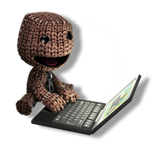 Need something to say?
Want to chat with the other wikians?
Join the Sackpedia Wiki Chat!
LittleBigPlanet is a 2.5D platformer game originally released for the PlayStation®3 in November 2008, and since released on PSP in November 2009 and as a sequel, LittleBigPlanet 2, for PS3 in January 2011. One of its most well-known features is its vast and extremely flexible Create Mode, in which players can build their own levels in addition to those provided as part of the main story.

This community-run, official wiki contains 659 articles (since March 2007) to tell you everything you need to know about LittleBigPlanet. New content is being written up all the time, and you can join in whenever you like. Be brave!

For any of you original LittleBigPlanet veterans, please note that items have been named by their LittleBigPlanet 2 names, but redirects should help you find the information you're looking for.
Did you know...

---

Decoding the barcode sticker reads "Rex is skill"?
The LittleBigPlanet Wiki (aka LBPWiki) is an official community-centric encyclopedia dedicated to the LittleBigPlanet series of video games: LittleBigPlanet (PS3), LittleBigPlanet PSP (PSP), LittleBigPlanet 2 (PS3), Sackboy's Prehistoric Moves (PS3), LittleBigPlanet Karting (PS3), LittleBigPlanet Vita (PSV), LittleBigPlanet Hub (PS4) and LittleBigPlanet 3 (PS4).
Currently hosted by Carlos, a large LBP fansite, this wiki is accessible for anyone. Any registered user can freely add or edit articles to ensure the wiki is always up to date with current information. This wiki aims to be the best online resource for detailed, accurate and up-to-date LittleBigPlanet information.

Ad blocker interference detected!
Wikia is a free-to-use site that makes money from advertising. We have a modified experience for viewers using ad blockers

Wikia is not accessible if you've made further modifications. Remove the custom ad blocker rule(s) and the page will load as expected.